Summary
An interdisciplinary team of researchers based in Austria, Thailand and Brunei are investigating the enigmatic "exploding ants" of Southeast Asia. A study published in the open access journal ZooKeys presents a new species of this fascinating group of insects, as well as first insights into the biology of these ants that give their lives to protect their colonies from harm.
Main text
The tropical rainforests of Southeast Asia are home to countless fascinating plants and animals. Among them are the so-called "exploding ants", a group of arboreal, canopy dwelling ants nicknamed for their unique defensive behaviour: When threatened by other insects, minor workers can actively rupture their body wall. This releases sticky, toxic liquid from their enlarged glands, which will deter or even kill the enemy – and inevitably end in the death of the worker.
This mechanism of self-sacrifice (named "autothysis") captured the interest of researchers from Austria and Brunei. Starting in 2014, a team of entomologists, botanists, microbiologists, and chemists from the Natural History Museum Vienna, Technical University Vienna, IFA Tulln and Universiti Brunei Darussalam came together to investigate the ecology and evolution of the hitherto relatively poorly studied "exploding ants".
So far, their research has found that most of the roughly 15 species in the group are still undescribed. In order to conduct studies on the microbiome – the community of bacteria and fungi colonising the ants' habitat – as well as gland chemistry and caste-specific specialisations of the body plan, a model species was chosen and described as new to science. This was the aptly named Colobopsis explodens – a representative of the group particularly prone to self- sacrifice when threatened by enemy arthropods (or intruding researchers). Previously nicknamed "Yellow Goo" for its bright yellow gland secretion, C. explodens is the first new species described within the ongoing project – with several more to follow in the near future.
While minor workers exhibit the ability to "explode", the other castes have their own specialities: Major workers (also called "doorkeepers") have big, plug-shaped heads used to close nest entrances against intruders. During a 2015 sampling trip to Brunei, project members Alexey Kopchinskiy and Alice Laciny were even able to observe queens and males on a mating flight, sampling the first males of this species to ever be seen. The same expedition was used to record the ants' activity schedule and conduct the first experiments on food preferences and exploding behaviour.
While these ants play a dominant role in the rainforest, their lives still hold a number of secrets. The observations and experiments conducted on the newly described species have laid important groundwork for future research that will uncover even more details about these enigmatic explosive insects.
Original source:
Laciny A, Zettel H, Kopchinskiy A, Pretzer C, Pal A, Abu Salim K, Rahimi MJ, Hoenigsberger M, Lim L, Jaitrong W, Druzhinina IS (2018) Colobopsis explodens sp.n., model species for studies on "exploding ants" (Hymenoptera, Formicidae), with biological notes and first illustrations of males of the Colobopsis cylindrica group. ZooKeys xxxx
The research was funded by the Vienna Science and Technology Fund (WWTF).
Contact
Alice Laciny MSc
This email address is being protected from spambots. You need JavaScript enabled to view it.
Multimedia
Image 1: minor worker of C. explodens, a) Head b) Body in profile c) Body from above Credit: Alice Laciny
License: CC-BY 4.0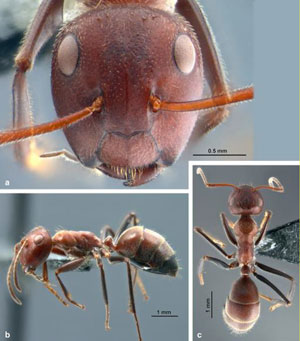 Image 2: Exploding behaviour of C. explodens in experimental setting with a weaver ant. Credit: Alexey Kopchinskiy
License: CC-BY 4.0
Image 3: Living workers of C. explodens. a) Minor worker with posterior body raised in a defensive pose b) Major worker of with characteristically enlarged head.
Credit: Heinz Wiesbauer License: CC-BY 4.0